Shandong Boda Pipes Industry CO.,Ltd
Phone:0633-2205636 2205626
Mobile telephone:13012778202
Fax:0633-3385598 3385578
Email:bdgy5626@163.com
Web:En.bodaguanye.com
Add:No.509 Shandong Road , Rizhao , China
Product
PE Pipe For Water
Standards and Use of Products
Water supply pipes are manufactured and tested in accordance with Polyethylene (PE) Pipes for Water Supply. They are applicable to the water supply (less than 40
℃
) for municipal use, drinking use, building use, farm irrigation, pollution discharge, chemical industry, medical industry and so on.
1、
Non-toxicity and Cleanliness: made from green building materials, pipes are non-toxic, non-corroding, and non-depositing so that the pipeline water quality can be effectively improved.
2、
Corrosion Resistance: polyethylene (PE) which belongs to inert material can resist erosions from many chemical substances except a few a strong oxidants, and it is also free from electrochemical corrosion, so erosion resistant coating is not needed.
3、
Non-leakage: PE pipes that are majorly connected with hot-melting or electric melting technique feature the good capacity to resist water hammer pressure and the effective resistance of fusion splices and PE pipes against underground movement and end load, so the safety and reliability of water supply are improved considerably;
4、
Small Flow Resistance: PE wall'sabsolute roughness K<0.01mm,
but the new steel pipe, and ductile iron pipe
wall'sabsolute roughness K≥0.06mm,so the energy consumption of water supply can be effectively reduced.
5、
High Tenacity: PE pipes for water supply which boasts its high tenacity with the elongation at break of over 600% and good adaptive capacity for uneven settlement of pipe bases is a pipeline construction material with good anti-seismic performance.
6、
Fine Flexibility: PE's flexibility enables PE pipes to twist to avoid using too many splices and fittings, so this kind material is characteristic with more economic value to pipeline constructions.
7、
Fine Resistance to Rapid Cracking: PE pipes feature good capacity to prevent cracks from spreading rapidly, fine scratching resistance and environmental stress crack resistance.
8、
Long Service Life: PE pipes can be used for over 50 years.

Item


Unit


Test Condition


Index


Elongation At Break


Longitudinal Shrinkage Rate


Oxidation Induction Time


Hydrostatic Strength


Hoop Stress 9.0MPa


No Rupture
No Leakage


Hoop Stress 4.6MPa


Hoop Stress 4.0MPa


Hoop Stress 12.4MPa


Hoop Stress 5.5MPa


Hoop Stress 5.0MPa
名 称
Name

(mm)
Size

(kg/m)
Weight

(mm)
Size

(kg/m)
Weight


Name

(mm)
Size

(kg/m)
Weight


Name

(mm)
Size

(kg/m)
Weight

SDR26
0.6 MPa

SDR13.6
1.25MPa

SDR21
0.8MPa

SDR11
1.6MPa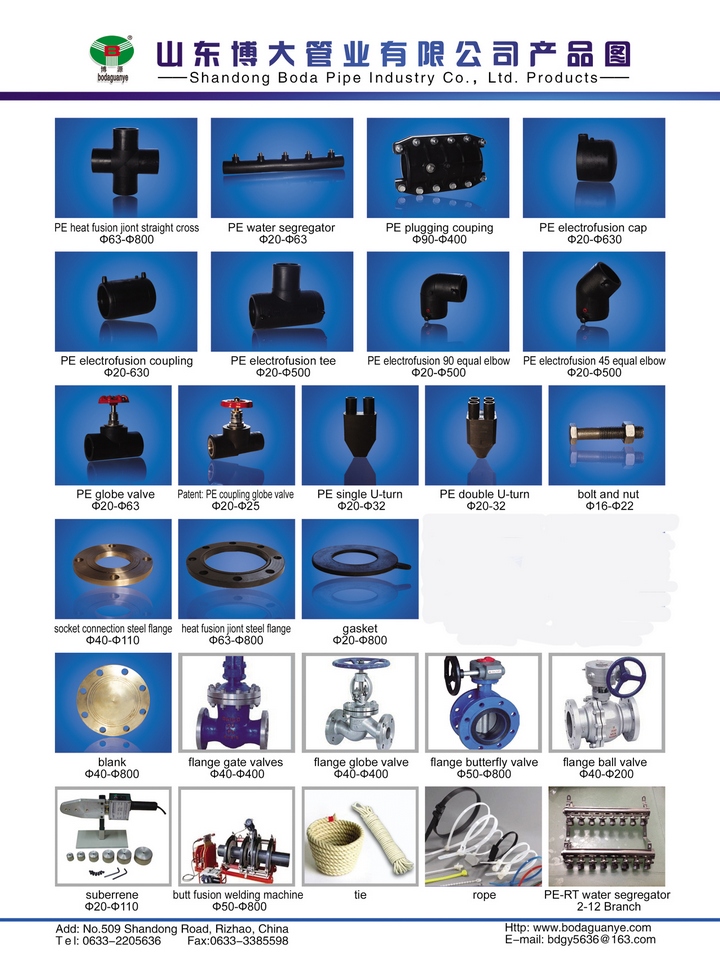 Others