Shandong Boda Pipes Industry CO.,Ltd
Phone:0633-2205636 2205626
Mobile telephone:13012778202
Fax:0633-3385598 3385578
Email:bdgy5626@163.com
Web:En.bodaguanye.com
Add:No.509 Shandong Road , Rizhao , China
Product
PE pipe for underground mine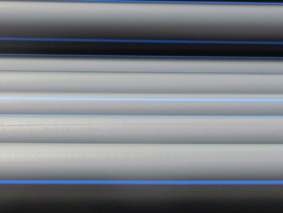 PE pipe for underground mine
Standards and Use of Products
Polyethylene (PE) pipes for underground mining of Boyuan Brand are manufactured and tested in strict accordance with enterprise standard, which is Q/RBD001-2005(this standard is from MT181-88). They are applicable to pipe network systems to supply water discharge air, compress air and draw out methane.
Features of Products
1、

Fine Electricity Resistance: electric resistance of pipe's internal and external surfaces are less than or equal to1*106Ω, so the safety of underground intense gas area is ensured.
2、

The average flame combustion time is less than or equal to3 seconds. The average flameless combustion time is less than or equal to 20 seconds.
3、
Corrosion Resistance
、No-Scale、
Small Flow Resistance
、
High Tenacity
:
Polyethylene (PE) which belongs to inert material can resist erosions from many chemical substances except a few a strong oxidants, and it is also free from electrochemical corrosion, so erosion resistant coating is not needed..
4、
Easy Installation: pipes are installed with hot-melting connection and flanged connection techniques to ensure speed and safety.
5、
Long Service Life: PE pipes can be used for over 50 years.

Index


Note

静Hydrostatic Test, with the Hoop Stress 12.4 Mpa and temperature at 20 ℃,hold the pressure 100h


No Rupture and No Leakage


Drop Weight Impact Test, drop at the height of 2 meters.


Weight 2kg
(Pipe diameter≤160mm)


No Cracks and No Damage


Must be with a half spherical hammer head with a diameter of 25cm


Weight 2kg
(Pipe diameter>160mm)


The arithmetic mean
of the interior or exterior surface resistance ,Ω

≤1×109


Water supply and drainage pipe

≤1×108


Spray tube

≤1×106


Ventilation pipe, gas pipe drainage


Alcohol blowtorch burning time,S


Flame Combustion





Flameless Combustion


Sum of 6 roots ≤120
dn(mm)


PN(PE100),MPa
Safety Warning:
Users need to notice using specifications when choosing products for fear that products may be misused. KS is water supply pipe, KJ is mining shotcrete pipe, KF is mining vent-pipe (electric resistance of external surface is 1*10Ω, and it can be applied to positive and negative ventilation), and KW is mining pipe to draw out methane.
Choose to use
i
n strict accordance with the pipe said pressure, overpressure
are not allowed
。
Others